As I was hiking this morning, I was watching myself, being aware of what I was doing, thinking, feeling, and sensing and a thought occurred, that mindfulness is about so much more than our mind.  As a former software engineer, I was living in a world of thought and cognition, which of course is helpful for many things, but not everything life gives us.  There is so much more to the mind than just thought, and if our definition of mindfulness is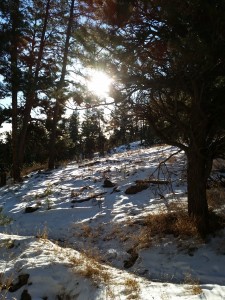 only on thoughts or the absence of thought, there's so much more we are missing.
Don't hear me wrong, being more aware of our thoughts, evaluating them as fact/opinion, true/false, helpful/not helpful and working to actively change thought is an essential first step.    It is the foundational basis of Cognitive Behavioral Therapy (CBT) which has been the primary treatment for a couple decades now, but of course there is more.
First let's be clear that our "mind" is different than our brain (the lump of cells in our skull).  And even our brain is not just thought.  As anyone who has seen the movie Inside Out will know, there are memories, emotions, core beliefs, and more that shape our personality and all are contained in our brain.  (As a side note, if you have not seen this movie yet, go see it!) Our "mind" is much broader and includes all of the components of the brain mentioned above, the remainder of our nervous system, body, and more.  Dr. Dan Siegel, clinical professor of psychiatry at UCLA School of Medicine defines the mind as "an embodied and relational process that regulates energy and information flow."
His definition is dense and can be broken down into much detail, but for now I just want to elaborate on a couple of points.  The mind regulates information flow – taking in information from our environment, information occurring within us, and information that may or may not leave us through expression.  The mind regulates energy input and output, such as the clamping down and low energy state known as depression.  The mind is embodied, that it is includes our central nervous system and peripheral nervous system that runs throughout our body and feels and expresses through the body.  And the mind is relational – our mind is influenced, shaped, impacted, and includes our relationships of the past and present.
So when we talk about mindfulness, we have to keep in mind that our mind is not just our brain, which is not just our thoughts.  It's helpful to start with tools that help us learn awareness and focus, but then we also need to keep in mind that when we talk about mindfulness, we also need to consider and work with body-fulness, emotion-fulness, sense-fulness, thought-fulness, memory-fulness, self-fulness, other-fulness, relation-fulness, heart-fulness, personality-fulness, habitual behavioral pattern-fulness, and all the other components of being human.
You can try some exercises and see a diagram of this on my Mindful Practice page.
To explore all these areas, it takes awareness, skill, willingness, patience, and it is quite helpful to have a guide.  After all, how do you explore the relational aspects of mind by yourself?  Further, most of us tend to stay in our habitual comfort zone, and having someone to help point out the things we are not seeing on our own is an important part of the process of growth and healing.  Exploring all of this is what Dan Siegel calls "Mindsight," and I call it your Inner (and outer) Life Adventure.
Happy exploring!
Chuck Hancock, M.Ed, LPC is a Licensed Professional Counselor in the state of CO. He has completed comprehensive training in the Hakomi Method of Experiential Psychotherapy, a mindfulness mind-body centered approach. Chuck guides individuals and groups in self-exploration providing them with insight and tools for change. He also incorporates nature as a therapy tool to help shift perspective and inspire new patterns.