We are here for people like you and me. We know there is really nothing "wrong" with any of us, but there are ways that we all struggle with living the fullest life we can. We provide you with mind-body centered counseling, coaching, and psychotherapy for all life and career concerns; guiding you through self discovery and empowerment coaching you to improve your relationship with the world.
Who?
We work with individual adults and couples from the late teens into elderhood meeting you where you are, guiding you on your journey back to wholeness and happiness.  We all have different obstacles to this, sometimes just feeling like something is off, or not as good as it could be.
Nobody exists outside of some relationship, so we also offer experiential groups and workshops to help you learn and practice changing in real time.
What?
Sometimes we think we have a label for it, like stress, depression, anxiety, self-esteem, identity questions, relationship or marriage problems, communication issues, grief and loss, addictions, disconnect from our emotions, anger, self-image, our careers, feeling stuck in a rut, shame, body image, eating disorders, the list is endless. But these are just labels for normal life experiences that keep us from feeling, experiencing, and expressing our complete and whole self.  We help people break free of their labels, not be defined by them.
How?
Our approach is mindfulness based, experiential, and compassionate, helping you explore and discover the parts of you that are in the way of you seeing and being who you really are.  We don't just talk! You could talk to anybody for free. We guide you to be aware of and experience what is already happening inside you, which is much more effective than just talking about problems. Chuck has extensive training as a therapist in the Hakomi Method of Experiential Psychotherapy, which has prepared him well to take you beyond talk deeper into your mind and body – deeper into fully knowing and loving yourself.
When?
We all have varying levels of suffering which can be caused by life events such as transitions, relationships, or just everyday life with a desire for things to be different.  Most of us try to work through this on our own. You don't need to wait until it is overbearing to benefit from a little help though counseling or therapy. Call or email us today.  We will meet you where you are and help you to grow into the life you know you can be living.
Call or email us today for a

free consultation

so we discuss how we can best work together to improve your life.
You may be thinking, "Inner Life Adventures seems like an unusual name for a counseling/therapy practice."  Well, you are right.  We are a different kind of practice.  First the most unusual part Adventures shows how we look at everything from a positive viewpoint.  The journey of counseling how we approach it – seeing it as self exploration and growth – is an adventure, not a problem or burden.  Inner Life comes from our focus on mindfulness and study of our internal world.  When we are paying attention to our inner life throughout our day, we become aware of so much happening that it really is an adventure! A lot could be said about what our name represents, but I'll leave it at that for now.  If you are ready to do more than just talk, but to experience your life fully and break free from your limiting patterns, you have found the right place. I invite you to embark on your own Inner Life Adventure.  Every adventure worth pursuing is made easier with a guide or facilitator.  When you are ready for one, we'll be here for you.
New outdoor nature based men's group offering starting in March as soon as the group is full. Learn more: https://www.elementalmasculinity.com/

Owning our story can be hard but not nearly as difficult as spending our lives running from it. Embracing our vulnerabilities is risky but not nearly as dangerous as giving up on love and belonging and joy—the experiences that make us the most vulnerable. Only when we are brave enough to explore the darkness will we discover the infinite power of our light.  ~Brene Brown
All of you is welcome here.  
Living with traumatic experiences often makes us feel like we have to hide a part of ourselves because of our own shame or because we don't believe the world will understand or support us.  Many who have experienced trauma live with depression, isolation, anxiety, addictions, or other issues. Engaging in group therapy may sound scary, but it has been my experience that healing occurs most profoundly when we can experience human connection while being with the events and parts of us with which we felt the most alone and unsafe.  You don't have to handle difficult things on your own.
Utilizing the latest research in treating trauma, this group draws upon the work somatic psychotherapy, experiential psychotherapy, attachment, mindfulness practices, interpersonal relationship, Acceptance and Commitment Therapy (ACT), DBT self regulation and distress tolerance skills, EMDR, ecotherapy, and Internal Family Systems.
Format
This weekly group is open to all genders and will provide a safe, supportive space that teaches mindfulness,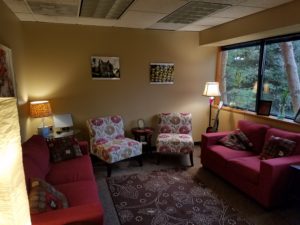 grounding, and resourcing skills and developing strength and resilience as a foundation.  Moving beyond skills, participants will discuss and support each other in managing current life triggers. As safety and trust deepen and when the time is right, there will be opportunities for each member to be able to process and do therapeutic work around their trauma in a group format. Harnessing the power of a safe supportive group container, people can feel even more held and safe to process events and receive support from a community of understanding people.  
Consent is key, and sometimes healing in and of itself.  Learning how to say yes when you mean yes and no when you mean no is a part of every group.  You will be empowered to participate or not participate to whatever level you are ready and wanting.  
The group meets weekly and is ongoing every Thursday evening.  In order to establish safety, rapport, and trust in the group, each person is asked to make at least an 8 week commitment to the group.  Many will stay on beyond the minimum to continue building trust, healthy healing relationships, and being able to work through challenges slowly and safely.  The group will have at least 4 and at most 8 members.
To enroll
Contact Chuck (
chuck@innerlifeadventures.com
or 970.829.0478) to setup a free 30 minute group screening and consultation.  If it seems like a good fit, you will be able to start as soon as the group feels it is ready for a new member.  It is highly recommended that you have an individual therapist as well, but exceptions may be made depending on your situation.
Cost
$50 per group.  Some insurance accepted.  Call your insurance company and ask about coverage for group therapy.  
Still not sure?
Articles for further reading on trauma specific therapy groups
https://psychcentral.com/blog/4-things-i-learned-in-trauma-group-therapy/
https://www.verywellmind.com/the-benefits-of-group-therapy-for-ptsd-2797656
Download the Trauma Therapy Group
 Flyer  to print or email to someone who may need this group.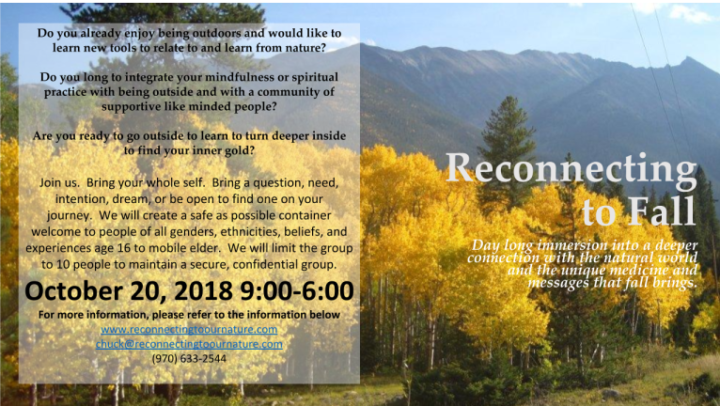 We are not separate from the natural world.  This myth that we are separate from nature and everything  around us is one of the greatest things causing humans suffering.  Even "visiting" nature implies we have to go somewhere to experience  it. In this day long program, we will be in nature to remember the age old practice of wandering  and listening, connecting intimately with nature both outside and inside of us to experience greater health and wholeness.  
Experience and connect with the season of summer in it's unique personality and relationship to the rest of the year.
Find and relate to plants, animals, birds, insects, rocks, and landscape that can help you deepen into your understanding of yourself and our world.
Utilize Ecopsychology  and transpersonal psychology to remember your wholeness, the wholeness of our world, and experience health and healing in nature.
Learn about the passages and cycles of days, years, seasons, and life itself.
Utilize practices to help you connect deeper to yourself and your own sources of guidance, wisdom, and support.
Spend time together as a community in council,  gain direct teachings on nature connected practices.
Have solo time on the land having direct experience with these practices in your own way..
Join us.  Bring your whole self.  Bring a question, need, intention, dream, or be open to find one on your journey.  We will create a safe as possible container welcome to people of all genders, ethnicities, beliefs, and experiences age 16 to mobile elder.  We will limit the group to 10 people to maintain a tight group. Financial Investment: $25 non-refundable registration holds your spot in the circle.  Suggested additional donation of $20-120 for programming, teachings, first aid supplies and support, organization, planning, and other energy invested in creating and holding space for you.  Nobody will be turned away for financial reasons. Let's discuss if you have questions or needs around money. Location and final logistics to be disclosed upon registration.  Will be within 1 hour of Fort Collins and we will coordinate a carpool to minimize impact on the environment.