We are here for people like you and me. We know there is really nothing "wrong" with any of us, but there are ways that we all struggle with living the fullest life we can. We provide you with mind-body centered counseling, coaching, and psychotherapy for all life and career concerns; guiding you through self discovery and empowerment coaching you to improve your relationship with the world.
Who?
We work with individual adults and couples from the late teens into elderhood meeting you where you are, guiding you on your journey back to wholeness and happiness.  We all have different obstacles to this, sometimes just feeling like something is off, or not as good as it could be.
Nobody exists outside of some relationship, so we also offer experiential groups and workshops to help you learn and practice changing in real time.
What?
Sometimes we think we have a label for it, like stress, depression, anxiety, self-esteem, identity questions, relationship or marriage problems, communication issues, grief and loss, addictions, disconnect from our emotions, anger, self-image, our careers, feeling stuck in a rut, shame, body image, eating disorders, the list is endless. But these are just labels for normal life experiences that keep us from feeling, experiencing, and expressing our complete and whole self.  We help people break free of their labels, not be defined by them.
How?
Our approach is mindfulness based, experiential, and compassionate, helping you explore and discover the parts of you that are in the way of you seeing and being who you really are.  We don't just talk! You could talk to anybody for free. We guide you to be aware of and experience what is already happening inside you, which is much more effective than just talking about problems. Chuck has extensive training as a therapist in the Hakomi Method of Experiential Psychotherapy, which has prepared him well to take you beyond talk deeper into your mind and body – deeper into fully knowing and loving yourself.
When?
We all have varying levels of suffering which can be caused by life events such as transitions, relationships, or just everyday life with a desire for things to be different.  Most of us try to work through this on our own. You don't need to wait until it is overbearing to benefit from a little help though counseling or therapy. Call or email us today.  We will meet you where you are and help you to grow into the life you know you can be living.
Call or email us today for a

free consultation

so we discuss how we can best work together to improve your life.
You may be thinking, "Inner Life Adventures seems like an unusual name for a counseling/therapy practice."  Well, you are right.  We are a different kind of practice.  First the most unusual part Adventures shows how we look at everything from a positive viewpoint.  The journey of counseling how we approach it – seeing it as self exploration and growth – is an adventure, not a problem or burden.  Inner Life comes from our focus on mindfulness and study of our internal world.  When we are paying attention to our inner life throughout our day, we become aware of so much happening that it really is an adventure! A lot could be said about what our name represents, but I'll leave it at that for now.  If you are ready to do more than just talk, but to experience your life fully and break free from your limiting patterns, you have found the right place. I invite you to embark on your own Inner Life Adventure.  Every adventure worth pursuing is made easier with a guide or facilitator.  When you are ready for one, we'll be here for you.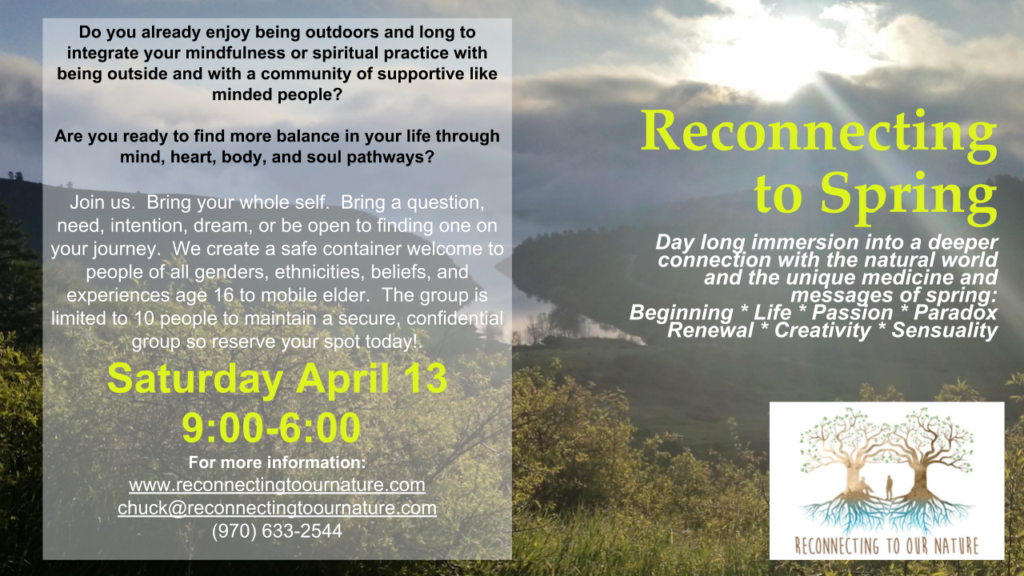 We are not separate from the natural world.  This myth that we are separate from nature and everything  around us is one of the greatest things causing humans suffering.  Even "visiting" nature implies we have to go somewhere to experience  it. In this day long program, we will be in nature to remember the age old practice of wandering  and listening, connecting intimately with nature both outside and inside of us to experience greater health and wholeness.  
Experience and connect with the season of summer in it's unique personality and relationship to the rest of the year.
Find and relate to plants, animals, birds, insects, rocks, and landscape that can help you deepen into your understanding of yourself and our world.
Utilize Ecopsychology  and transpersonal psychology to remember your wholeness, the wholeness of our world, and experience health and healing in nature.
Learn about the passages and cycles of days, years, seasons, and life itself.
Utilize practices to help you connect deeper to yourself and your own sources of guidance, wisdom, and support.
Spend time together as a community in council,  gain direct teachings on nature connected practices.
Have solo time on the land having direct experience with these practices in your own way..
For more information: http://reconnectingtoournature.com/
Men's Mental Health - Restoring Healthy Balanced Men: Through Balancing Thinking, Feeling, Being and Doing. Talk given for the Health District of Northern Larimer County Colorado on 2/27/19. This talk discusses some of the issues related to gender, especially masculinity and how they can impact men's mental health.  A framework for self assessment as well as ideas to create more balance are explored.
Men's Mental Health Slides
Handouts
Masculine Compass Directions
Masculine Compass Directions - Increasing Balance and Self Care
This is an introductory talk to raise awareness on the issues related to men's mental health and healthy masculinity.  To dive deeper, consider working with me individually or joining a men's group that I offer or elsewhere in your community. If these 4 modes of Thinking, Feeling, Doing, and Being speak to you and you want to dive deeper into them on your own, this is a good readable reference:
The Four Archetypes of the Mature Masculine: Introduction
.  Sometimes the language of archetypes doesn't resonate for people, and that is fine.  Just substitute Thinking, Feeling, Doing, and Being and there is good information to be had.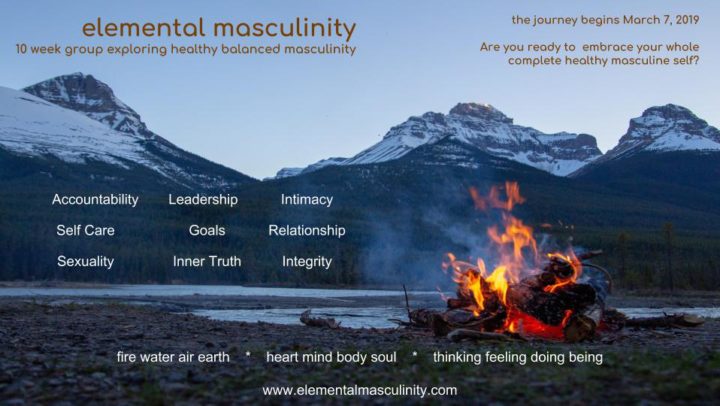 New outdoor nature based men's group offering starting in March as soon as the group is full. Learn more: https://www.elementalmasculinity.com/